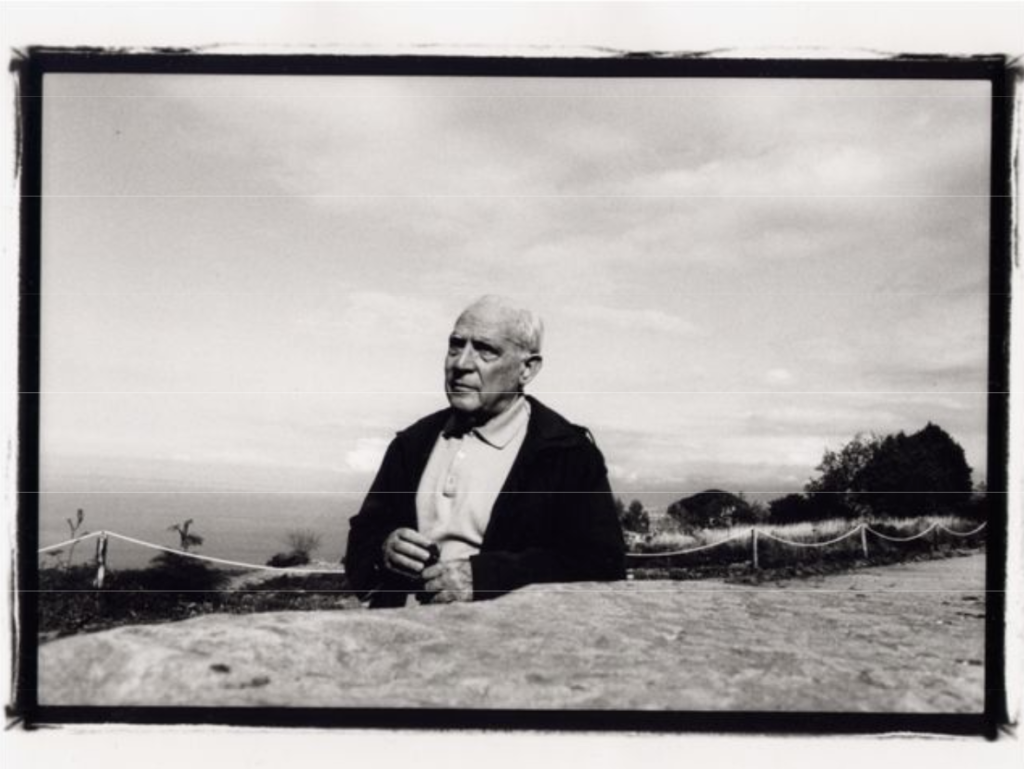 A portrait of Sicily through the eyes of one of its more important writer, a portrait of the writer through the lights and shadows of his land. A clear interpretation of Italian history, in particular Sicilian, from the post-war period to the present day: emigration to the north, the life of sulphur miners, the end of the farming world, rapid industrialization, speculation of the territory, earthquakes and reconstructions of the wilderness, mafia massacres, of the past and present.
A story that Vincenzo Consolo has experienced first-hand, sharing it with the most important intellectuals of our country.
Production:
ARAPÁN CINEMA DOCUMENTARIO, 2008.
Duration: 75 min.
Shooting: 16 mm, Super 8, HDV.
Support: DIGI-BETA, STEREO
Italian version and subtitled (franch, english).
Written and Directed by:
LUDOVICA TORTORA DE FALCO
Photography: FERRAN PAREDES RUBIO
Sound: M.GOBIET, P.FANCELLU, V.GIANNI', D.PESOLA
Video editing: ILARIA FRAIOLI
Audio editing: STEFANO GROSSO, MARZIA CORDO'
Original music ANDREA AMENDOLA
Executive production: GIUSEPPE SCHILLACI
Animation: LORENZO MONETA
Video and photographic archive material:
(Istituto Luce, Manfredi Produzioni, Archivi privati).
Set photographs: ARMANDO GIORGINI
AWARDS AND SELECTIONS

Award for best Documentary
Sicilian Film Festival in Miami, Florida (2009)
Special Jury Mention
Mediterranean Jury Video Festival of Agropoli, Salerno (2009)
Selection in the 'Portraits' section
Festival of Italian Cinema, Annecy (2009)
Selected for the retrospective 'Sicily, Men and Landscapes'
Jeu de Paume, Paris (2010).
DISTRIBUTION PROJECT FOR The island inside, a journey through Vincenzo Consolo's Sicily 

– Consolo nelle Scuole:  project supported by the Framework Programme Agreement of the Film Commission of the Sicilian Region: organization of screenings and meetings in the presence of Vincenzo Consolo, Ludovica Tortora de Falco and Alessandro Rais.  From 2008 to 2010 the project allowed more than 5000 students from Sicilian schools to watch the film. The publisher Palumbo then printed 2000 DVDs and ensured its distribution at every Sicilian school. 'Consolo nelle Scuole' is a still active distribution project.

–Italian Cultural Institutes of the world:  The Ministry of Foreign Affairs, D. G. P.C.C. – Ufficio I, has guaranteed the distribution of a copy of the documentary film at the libraries or video libraries of every Italian Cultural Institute in the world. The documentary film is distributed within numerous educational institutions and screened in different Italian and foreign universities (Universidad de Valencia, Université La Sorbonne, University of Cork, University of Dublin, University of Oregon, University of Catania, University of Palermo, University of Rome, University of Milan.)

– Cresco Distribution Project: The film is included in the list of films selected for the CRESCO training and distribution project, active with screening sessions, starting from 2019 in Italy and abroad, and promoted with SudTitles Palermo.

More informations about screenings: info@arapan.it or cinema@regione.sicilia.it
More informations about DVD: info@arapan.it
More information about the distribution projects click here.

© Arapán Film Doc Production – info@arapan.it